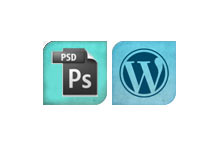 Let our staff do the heavy lifting for your PSD to WordPress conversion service needs.  We convert your PSD or other layered file into a pixel perfect, custom WordPress theme.  Our team is also available to assist with your content entry and code additional features as needed.  Contact us today to learn more about our professional PSD to WordPress conversion service.
Our pricing depends on what features you design.  We are not a one-size-fits all WordPress development shop.  We build high quality, custom WordPress themes for clients – built from their PSD or other layered files – all from scratch right here in the Midwest.  There is a lot of international competition for PSD to WordPress conversion services and we understand that your company would rather deal with a normal time-zone and native speakers. Our team will work for you – we do not develop a stock solution that we think is best.
Let WPC code your vision into pixel perfect, WordPress perfection.