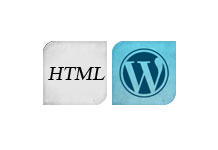 Let our team convert your web template to WordPress.  Our web template to WordPress conversion service offers full content entry, full template development, and WordPress plugin installation in order to achieve your existing website's programming objectives.  At this time, we are also able to add any additional features that you may want into your new website once you have converted your web templates to WordPress.
Our team has worked with templates from ThemeForest,Template Monster, and many other template companies.  Our service to convert web templates to WordPress is cost effective and will allow your site to grow with the internet.  Our team can convert your web templates to WordPress flavored goodness.

Our web template to WordPress conversion services provide a cost effective solution to a brand-new agency website.  We convert your existing designs into a custom WordPress theme and allow you to have more control over your existing website content.  Loose the static web templates and gain a dynamically powered WordPress website. Gain back control over your website templates and  content with our professional and affordable WordPress conversion services.
For less than the cost of a new website, our team can breath life into your old website with WordPress.  Let us show you how having the capabilities that WordPress provides is essential to growing your business online.  Our team will take your boring web templates and make them as easy to edit as a Word document.  Our web template to WordPress conversion service is custom to your existing site – and we don't re-sell our customer's work.  Contact us for more information about our service and let us show you how WordPress is a better website to own.
Contact us for a risk-free estimate on our web template to WordPress conversion service and for more information about  your  conversion project.  We will provide a complete, turn-key conversion for your existing website and assist with re-launching your new WordPress powered website -all for 1 low price.  Request your free estimate today.